Alayna Kellett Guest Workshops
August 19 @ 11:00 am

-

4:00 pm

$30 – $45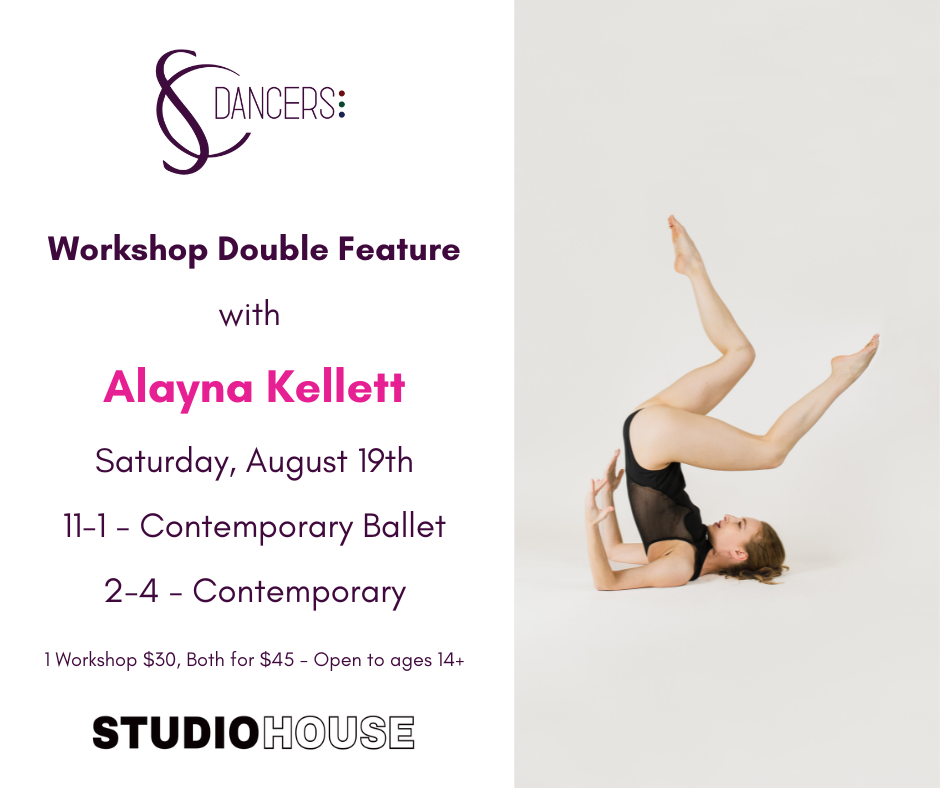 Simcoe Contemporary Dancers in partnership with Studio House Barrie is proud to present a guest workshop series with Alayna Kellett!
11 am – 1 pm – Contemporary Ballet
The contemporary ballet class will integrate two different styles of dance, classical ballet and modern dance. While we explore the movements of ballet, we will have moments of focusing on technique, breath work and being able to dance with musicality. There will be positions on the ballet bar, being placed in the center floor along with standing and seated movements and exploring movements that go into and across the floor. This class will finish with a piece of choreography that is potentially exerted from one of Alayna's working show pieces. It is recommended to have at least 3 years of ballet and/or contemporary  dance experience but if you do not, please reach out to discuss your options.
2 pm – 4 pm – Contemporary
The contemporary floor work class will primarily focus on getting your movements onto the floor with fluidity that includes elevations, inversions and traveling movements that integrate various levels of stretch and elasticity. With a shorter warm up time, this class will be able to find you different stretch shapes as well as resistance through the use of contemporary floor work. This class will finish with a culmination of choreography adapted from one of Alayna's Toronto Fringe shows.
Workshop Rates:
1 Workshop – $30
2 Workshops – Buy one get one 50% off – $45
*All prices are inclusive of HST. 
Instructor Bio:
Alayna is a professional dancer, producer, choreographer, adjudicator and model, having graduated from Ryerson University with a BFA in the Performance: Dance program. As a technically trained dancer, Alayna is proficient in ballet, pointe, jazz, modern, contemporary, lyrical, musical theatre, tap and burlesque.
​During her years of education, she trained under artists like Nadia Potts, Rex Harrington, Roberto Campanella, Kenny Pearl,  Allen Kaeja and many more. Alayna trained in BATD, RAD and ADAPT as well as continuing her own education with programs like C.I. Training, Progressing Ballet Technique and IDTS.
Recently, Alayna has been working on producing films under Von Hunt Productions, such as 'In Transit', which was featured this year at the Digital Toronto Fringe Festival 2021, along with a new film projected to start production in 2022. In addition to recent works, Alayna has performed and choreographed 'Tales of a Cocktail' and 'Anatomy of a Dancer', which have been nominated for several Broadway World Awards.
Alayna has worked as the resident choreographer for companies like Big Soul Productions, SilverHouse and The Artillery Collective and has choreographed for short and feature films, which include 'Something for the Buoys' (Sapling Productions), 'Bonded' (Incolour Films), 'West Side Story' (Bayside Arts & Pinnacle Playhouse), Gypsy (Stirling Festival Theatre), 'Hello Again' (The Artillery Collective) and many more. Alayna's work has been on stages in productions of HIM International, Starboyz Productions, Fever After Dark and The Darling Mansion and has also worked with the companies FujiFilm, Henry's, Apple and Bank of Montreal. Alayna has also been a part of productions for international artists such as Feist, Joey Stylez and Juice Bar. Additionally, Alayna has established a residency at a local speakeasy where she regularly performs and choreographs burlesque acts in downtown Toronto, and has performed in notable venues such as The Royal Conservatory of Music, The Gardiner Museum, Roy Thompson Hall and many more. 
With Alayna's experience, she is a highly sought-after adjudicator that is registered with the Professional Adjudicators Alliance and is always excited to share those experiences and passions with competitors. In Alayna's 10+ years of teaching experiences, she has travelled all over Canada and the East Coast to teach, choreograph and adjudicate, as well as creating custom pointe and pointe preparation programs, over-the-top production numbers, conditioning programs as well as award winning choreography by dance studios across the country. Alayna had also spent 2 years as the Jazz Teacher on staff with In-Studio, through the National Ballet of Canada.