Shelby Thoms, Ulana Fordham, and Chrissy Baxter in "Cumulonimbus and the Fable Keepers" choreographed by Susan Kendal. (Photo by Mar Lewis).
Dusk Dances Barrie is an outdoor dance festival presented annually by Simcoe Contemporary Dancers in Barrie, Ontario. Dusk Dances Barrie brings dance to public parks. As dusk descends, a theatrical host leads the audience to an array of unique dance pieces that unfold in different areas of the park.
Audiences are invited on a pay-what-you-can basis to this innovative site-specific festival, which is not only an artistic event but a social and cultural one as well!
As a presenter, our mandate is to bring dance to the community by making it accessible. We do this by:
offering a performance in a public space – a park
providing admission on a pay what you can basis
programming a diverse program for all tastes and ages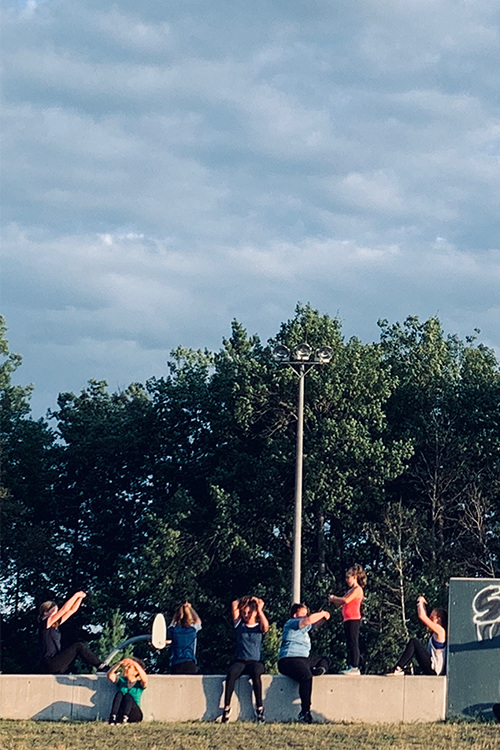 Celebration of Dance is a special fundraising event presented by Simcoe Contemporary Dancers. Annually, SCD invites dancers from all over Simcoe County come together to raise money for both local and international charities. This event is an amazing opportunity to see a variety of dance works and support some great causes!
A local educator, Celine McCauley, created and presented this event for over ten years. Upon her retirement, she entrusted the event with us to carry it forward. We have been deeply honoured to carry on this local tradition since 2016!
Since the inception of Celebration of Dance, the event has helped raised more than $40,000 for charities!
Celebration of Dance 2023 will be taking place at Georgian Theatre on May 16, 2023 in support of Big Brothers Big Sisters of Barrie and District!
Purchase your tickets here!