Eliza Pinney, Ulana Fordham and Chrissy Baxter in "Cumulonimbus and the Fable Keepers" choreographed by Susan Kendal. (Photo by Mar Lewis).
Our Mandate, Mission & Values
Simcoe Contemporary Dancers is a not-for-profit professional dance company serving the region of Simcoe County that exists to encourage and showcase the development of local professional contemporary dance.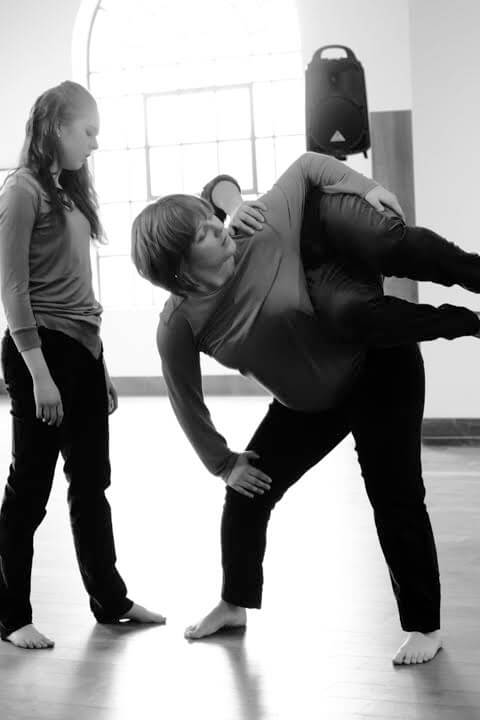 We come together to raise the visibility of contemporary dance, create awareness, build educational opportunities, and reach out to our public to share our love of our art form.
As residents of our community, we are invested in growing and developing local talent and local opportunities for professional development.  Our goal is to raise visibility and participation in contemporary dance by creating and performing contemporary dance works; providing workshops/classes at an intermediate to advanced level of training, and providing public access to dance through performances/community involvement.
We value and encourage inter-disciplinary partnerships with individual artists and other local arts organizations.
The nature of our artists and activities provides a safe, positive, neutral environment for people to come together to take part in a shared experience. We facilitate opportunities to converge and collaborate as a community in a non-competitive atmosphere – providing a platform to be expressive, creatively engaged, and challenged.
The local focus of our organization allows members of the community to enjoy a professional level of dance in their backyard. Our events bring the community together to a shared experience of movement, which transcends language, as we animate spaces with choreographies that tell our stories and experiences.
We are ambassadors for our art form within our community and ambassadors for our community within our art form.
Photos of "Cumulonimbus and the Fable Keepers" set design created by Susan Kendal. (Photos by Mar Lewis).
Simcoe Contemporary Dancers (SCD) was founded by Sarah Lochhead in the Spring of 2009 with support from a City of Barrie Cultural Grant.
Sarah was inspired to found SCD because she saw a need and wanted to build a space where both emerging and professional dancers could train in their community. SCDs commitment to expanding the contemporary dance community in Simcoe County has seen site-specific works, full-length evening performances, community projects, training, and educational opportunities come to fruition, enriching the arts community and exposing new audiences to contemporary dance.
Our inaugural project "Get Out and Dance" was a site-specific project animating the waterfront and streets of downtown Barrie. We acquired donated repertoire from choreographers leading to public performances in unconventional spaces such as the Bayfield Mall, the Holly Community Centre, Royal Victoria Hospital, the Innisfil Public library, and the Creative Space to name a few and, theatre venues like the Georgian Theatre and the Five Points Theatre (formerly the Mady Centre for the Performing Arts).
Saw the creation of new works and performances throughout Simcoe County and the GTA!
In 2010 we performed for Dance in Dundas Square in Toronto. That spring works by Lochhead were performed as part of Corpus Dance Company's provincial mall tour. We held a creation period acquiring new repertoire and gave workshops in high schools, private studios, and expanded our weekly classes to include an Orillia location.
Our public performances included being part of the first national Culture Days initiative. SCD has performed at every subsequent Culture Days weekend at the Maclaren Arts Centre. These performances are a recurring event in our performance season and are a way we expand our audience and connect with our supporters.
We collaborated with notable dance artists and premiered our first full-length production - 'Woven'.
In 2011, we worked with notable Canadian modern dancer Trish Armstrong.  With solos by Armstrong and direction from Lochhead and Nancy Pottage, we produced our first full-length production – "Woven." That summer SCD offered its first intensive called *My Moves – Choreographic Intensive, to assist in developing the skills of regional youth choreographers. Performance highlights included the Grand Opening Gala for the Mady Centre for the Performing Arts (now, Five Points Theatre), and collaborating with BRAVADO!
In late 2011 and into 2012 we began a guest workshop series bringing up artists such as Lucy Rupert, and Brittany Duggan. Performance highlights of 2012 included: SCD apprentices at the Guelph Contemporary Dance Festival's Youth Moves Series; a Culture Days performance at the MacLaren Art Centre; the patient holiday party at the Royal Victoria Hospital and participation in Across Ocean's Choreographic Marathon in Toronto.
As of February 28, 2012, we incorporated SCD as a not-for-profit organization.
We created new professional workshop opportunities in Barrie and expanded partnerships.
In 2013, we garnered support from the OAC for "Departure" at the Five Points Theatre. The opening preview was sold out! Throughout 2013, we continued our performances in the community expanding our reach and continuing a performance partnership at the MacLaren Art Centre for both Winterfest and Culture Days. Our workshop series expanded to include a "Welcome Home" component, which brings artist who grew up in Barrie and area back home to share their experiences and skills. Since this "Welcome Home" series we have seen multiple artists come home to Simcoe County to share their art with SCD and community members including Dora Award winning choreographer, Mairead Filgate as well has many former apprentices including Eliza Pinney, Reagan McQuoid, and Aliyah Beckles-Gaines.
We commissioned our a full-length choreography and brought unique performances to Barrie.
2014 focused on the development of our other-worldly performance spectacular at the Five Points Theatre (Oct. 2015) "Cumulonimbus and the Fable Keepers" choreographed by choreographer and textile-artist, Susan Kendal. We celebrated our fifth anniversary with a gala event at Flying Monkeys Brewery. We also partnered with Across Oceans and The David Busby Street Centre to bring the award-winning community arts project KRIMA! to Barrie. This was one of our first community-engaged creation periods!
We created new partnerships with local choirs and embarked on a tour of Simcoe County!
2015 saw choral collaborations with BRAVADO! and King Edward Choir. With support from the County of Simcoe, we embarked on a Library Tour expanding our performance reach to Collingwood, Innisfil, Severn, and Penetanguishene. In addition to Culture Days activities, we presented Cumulonimbus and the Fable Keepers at the Five Points Theatre for the Performing Arts. We expanded our holiday performances to include outreach in Innisfil and Thornbury. These holiday performances were also the first year we included a community workshop aspect into our holiday performances. We offered a small workshop class for members of the community to create their own holiday dance and connect with company members before an impromptu performance of the work they helped create.
We expanded our performances to include spots in Toronto and Orillia!
In 2016, we performed as part of Dance Ontario Dance Weekend at Harbourfront Centre in January 2016. We took on organizing and presenting Celebration of Dance – a community performance involving studios and schools to raise money for local charities.  We also performed at the inaugural Huronia Arts Festival at Lakehead University's Orillia campus and this fall we held our first gala incorporating a performance element with the goal of attracting corporate sponsors to diversify revenue. The Lucky 7 Gala event was a great success and saw community members and company members come together to celebrate the successes of SCD so far.
We brought Dusk Dances to Barrie and solidified a legacy of dance for our community!
In 2017, eight years into our journey, we applied for and received funding to present Dusk Dances Barrie for the first time at Lampman Lane Park in Barrie! We brought a series of 4 professional touring dance works to be performed at the park as well as creating and facilitating a choreographic process with community members ages ranging from 6 to 30+. We also presented our fourth full-length performance, "Trajectory", at the Five Points Theatre. This mixed bill performance expanded the boundaries of what contemporary dance is and can be. SCD Company members with Meagan O'Shea brought down the house during our successful four-day run. At Trajectory, SCD also presented two world premiere choreographic works, one by Dora Award-winning choreographer and Barrie Native, Mairead Filgate, and SCD Artistic Director Shelby Thoms.
We started a new creation period in preparation for the celebration of our 10-Year Anniversary!
In March 2018, our Board of Directors approved our first five-year strategic plan already in progress, measures framework, and scorecard measuring system. August 2018 saw the production of the second year of Dusk Dances Barrie at Lampman Lane Park in Barrie! We saw audience numbers, community participation and interest in the festival increase ten-fold. As an arts organization whose strategic goal is to provide community access to dance and consistently works to provide opportunities for our community to participate in arts programs, Dusk Dances Barrie has been a joy to bring to the area. As the only professional not-for-profit dance company in Barrie we are so proud of the legacy we have cultivated and continue to create through the work that we do. 2018 also saw a creation period for our 10-year anniversary show – Confluence.
SCD turned 10! We toured Simcoe County, created new partnerships, and expanded our activities!
During our 2019/2020 season, we reached a huge milestone – we turned 10! During our tenth anniversary season, we expanded our reach throughout Simcoe County with performances, a Simcoe County Theatre Tour, expanded partnerships, classes, and workshops. Our fifth full-length theatre production Confluence, toured from Barrie, Collingwood, Orillia and Alliston in partnership with 3 local theatres. Confluence saw the premiere of 3 brand new works choreographed by Jaqui Brown, Jewell Cormier, and SCD Founder, Sarah Lochhead. We expanded our local partnerships by collaborating with The MacLaren Art Centre to present Rhythm N' Hues Workshop through their VanGo program in schools, we partnered with Talk is Free Theatre in an immersive arts festival called the WOW Collection, continued presenting our weekly classes, ongoing workshops and worked to present the fourth Annual Dusk Dances Barrie event.
We look forward to returning to the stage for our sixth full-length production!
Now, in 2021, we are deep into a creation/remount period as we prepare for our sixth full-length theatre production, Unravelled – a reimagining of our first full-length production Woven, which is 10 years old this year! We are looking forward to future creation periods, reintroducing our guest workshop series, and engaging our public once again in community-engaged creation periods!